Recent Articles
Oct 07, 2019
New Meditation Challenge: Are you In?

A comfortable on-line way to start a meditation program
Aug 13, 2019
Taking time for fun

Are you still taking on the adult persona in your downtime?
Jun 18, 2019
Podcast with Steffi Black

Sharing my unconventional views on introverts, kindness and ho'oponopono
Kindness comes to Holy Family
Feb 16, 2013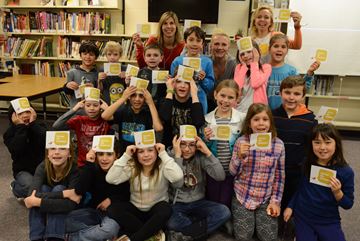 Teacher Anna Trojanowski's Grade 3/4 class took part in a kindness workshop led by Kindness Coaches Ivy Sims and Steffi Black at Holy Family Public School Tuesday.
The coaches ran an activity where students chose a classmate's name from a box, wrote some kind words about them and shared it with the class.
Kindness is a core value at the school and the workshop kicked off a month-long curriculum leading into the internationally-recognized Random Acts of Kindness Week, Feb. 10-16, 2013

Did You Like This Post?
Sign Up for Quarterly #spreadthekindness & Coaching Tips Newsletter
Empowering Updates for the Heart and Mind!